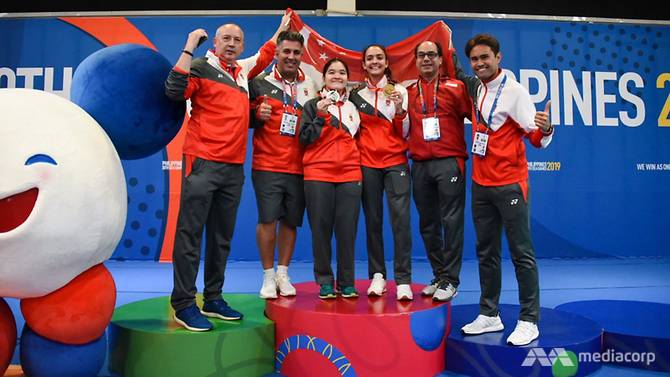 It was teammate versus teammate, roommate versus roommate in the women's individual foil finals on Tuesday (Dec 3) as Amita Berthier beat Maxine Wong to win gold.
In the end, it was Berthier, the more experienced of the two, that clinched victory, retaining her title from the 2017 SEA Games.
The dynamic duo were not the only Singapore's only medalists in fencing on Tuesday, with Clive Leu taking home a joint-bronze after losing to Christian Concepcion 15-10 in the men's individual sabre semi-finals.
Catch Amita's interview [21:35 mark] interview on 'Today at the Games – 30th SEA Games' on Toggle.

https://video.toggle.sg/en/series/today-at-the-games-30th-sea-games/ep3/874490#
Read more at
1. Channelnewsasia – https://bit.ly/2YaUcaJ
2. Straitstime – https://bit.ly/2LjgfXl
3. Lianhe Zhaobao – https://bit.ly/35WPa4g