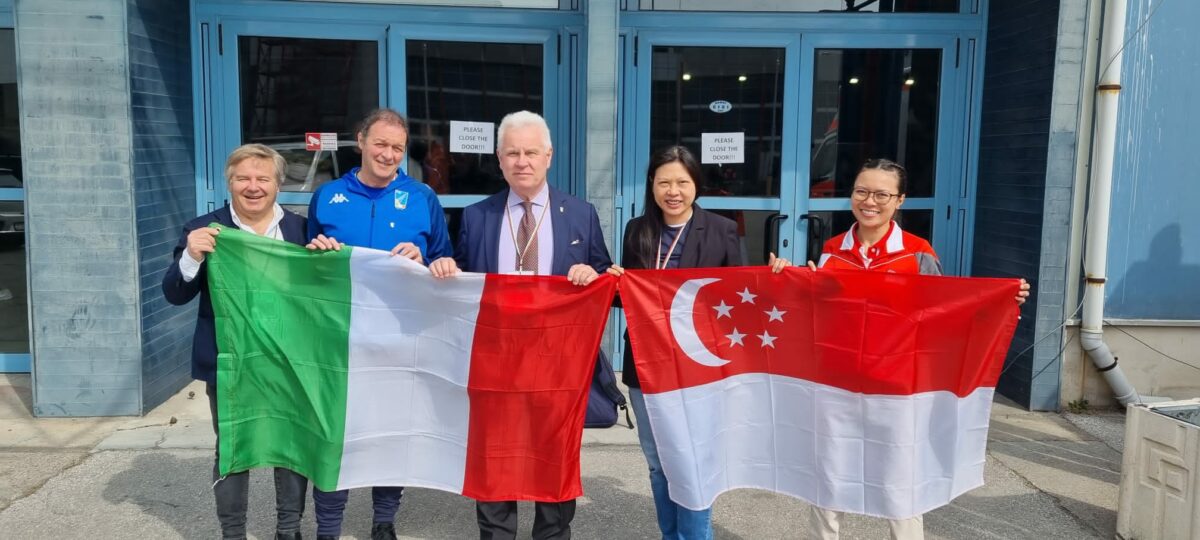 SINGAPORE, 7TH OF APRIL 2023 – Fencing Singapore (FS) and the Federazione Italiana Scherma (FIS) have signed a Memorandum of Understanding (MOU) to promote fencing in their respective nations. The MOU was signed by Mr. Paolo Azzi, President of FIS, and Ms. Juliana Seow, President of FS, at the Junior and Cadet World Fencing Championships in Plovdiv, Bulgaria.
The MOU outlines a mutual relationship of collaboration and consultation on both technical and competitive fencing exchange between FIS and FS. It will enable Singaporean fencers to compete in selected competitions on the Italian circuit, while FS aims to enhance its technical knowledge in fencing, coaching, refereeing and possibly para fencing.
As part of FS's overall coaching development program, FIS fencing coaches will be invited to conduct coaching education and training camps for Singaporean coaches and athletes. Singaporean fencers and coaches will have the opportunity to train with the Italian National Team, and attend FIS coach education courses in Chianciano Terme, Italy. Aspiring Singaporean referees/officials will also have the chance to attend FIS courses.
"We are thrilled to partner with Fencing Singapore and build on our shared passion for fencing," said Mr. Paolo Azzi, President of FIS. "As a nation with a rich history and expertise in fencing, we believe that this collaboration presents a unique opportunity to exchange knowledge, enhance technical skills and develop the sport together. We are confident that this MOU will pave the way for meaningful and mutually beneficial collaborations between our nations."
Ms. Juliana Seow, President of FS, expressed her enthusiasm for the collaboration, saying, "We are thrilled to join forces with the Federazione Italiana Scherma and gain invaluable insights from their extensive knowledge and expertise in fencing. This partnership presents an exceptional opportunity for us to elevate our coaching and refereeing development programs and enhance the technical skills of our fencers. We believe that this collaboration will contribute to the growth and development of fencing in Singapore, and we look forward to working closely with FIS to achieve our shared goals."
Fencing Singapore has gained significant experience from existing relationships with Italian fencing partners such as the Fencing Professionals Assembly (FPA), Italian fencing equipment brand Carmimari, and Aldo Montano Academy. These collaborations have enabled FS to learn from the best in the world and raise the standard of fencing in Singapore. The MOU with FIS aims to further strengthen this alliance and open new avenues for collaboration and growth.
##