ITALIAN HERITAGE BRAND, CARMIMARI SIGNS WITH FENCING SINGAPORE TO DRIVE INNOVATION AND EXCELLENCE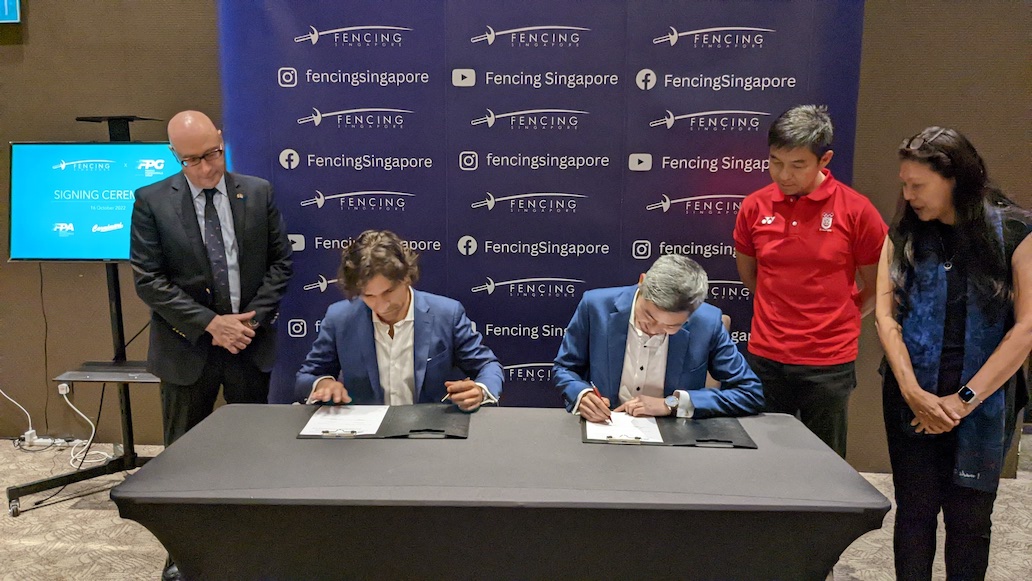 SINGAPORE (16 October 2022) – Fencing in Singapore is getting a boost today with the signing of a partnership and sponsorship agreement with Italian fencing heritage brand, Carmimari – the inventor of modern foil weapon. The partnership between Fencing Singapore and Carmimari entails equipment supply to high performance teams representing Singapore in International Major games and also collaborative marketing efforts to increase awareness and community participation in fencing. The two parties are committed to jointly host international events annually that would bring high profile fencers to Singapore, with the aim of creating a hub for fencing and ultimately a World Championship bid in the near future.
The concept of an international fencing hub in Singapore has already attracted local investors. On top of the partnership agreement, an MOU was signed between a local investor and Carmimari to allocate resources to develop and innovate fencing competitions worldwide through a series of pro-league events.
Speaking at the side-lines of the inaugural FIE Satellite Women's Foil Tournament at the OCBC Arena – an International Women's Open Fencing competition sanctioned by the Fédération Internationale d'Escrime (FIE) where female foil fencers around the region were in town to compete with our Singapore National Fencers – Mr David Chen, Secretary General of Fencing Singapore said, "We are thrilled to welcome Carmimari on board as a Partner for Fencing Singapore. We look forward to building this successful partnership for the future. Carmimari is a leading fencing equipment manufacturer, with long-standing heritage and innovation. Its support will help us in our goal to become a leading nation in fencing. Being able to attract a partner of this calibre says a great deal about how far fencing has come in Singapore, and we're deeply encouraged by this.
Together with the partnership signing ceremony, Fencing Singapore also held a celebratory dinner at the OCBC Lounge where it commended national fencers for their outstanding performances at the recently concluded 31st Southeast Asian Games in Vietnam.
Mr Tan Chuan-Jin, Speaker of the Parliament of Singapore and President of the Singapore National Olympic Council, graced the event as the Guest-of-Honour and presented awards to all the SEA Games medallists.
## END ##